5 Useful information for first-time visitors when travelling to Cambodia
Planning to travel to Cambodia and trying to gather as useful information and trip advice as possible for your holiday, then, here is a one stop guide for first-time visitors when traveling to Cambodia. Gain a unique view of Cambodia. Escape the crowds and explore the grounds of Angkor Wat by torchlight or venture to Cambodia's south coast on a historical train route from Phnom Penh. An unforgettable experience starts with the unexpected. We'll make sure you see the most popular highlights of our destinations… but then we'll show you the places you wouldn't find on your own, and Asia is full of these hidden treasures. From conversations with local families, feasting in street food stalls, and shopping in hidden local markets, we'll make sure you go home with memories of an amazing connection to Asia.
Cambodia is suitable to travel all year round and is also a destination that offers interesting activities, beach stay, history discovery through different trip grading. Once traveling to Cambodia, you can grade your journey to help you choose the trip that best suits your needs and expectations. Visiting Cambodia required independent mobility and we recommend you plan a travel which suits your physical ability. Our expert travel advisors can answer any questions you may have regarding the trip grading of your desired trip. Solo travellers never travel alone once in Cambodia, you will meet like-minded travelers from all around the globe since Cambodia is one of the safest destination in South-East of Asia. In addition, regarding accommodation and places to stay in Cambodia, you will find a wide variety of hotels and accommodations to lodge anywhere you travel in Cambodia. Our hand-picked selections were chosen specifically for their location, charm and culture to ensure your journey is comfortable.
Following independent guide to travel Cambodia help you to Venture to Cambodia and explore a land of iconic temples, turbulent history and welcoming peoples. Experience the magnificent temples of Angkor, discover the fishing communities of Tonle Sap Lake, and explore the bustling streets of Phnom Penh.
Choose from very best of private luxury Cambodia tours by our experts.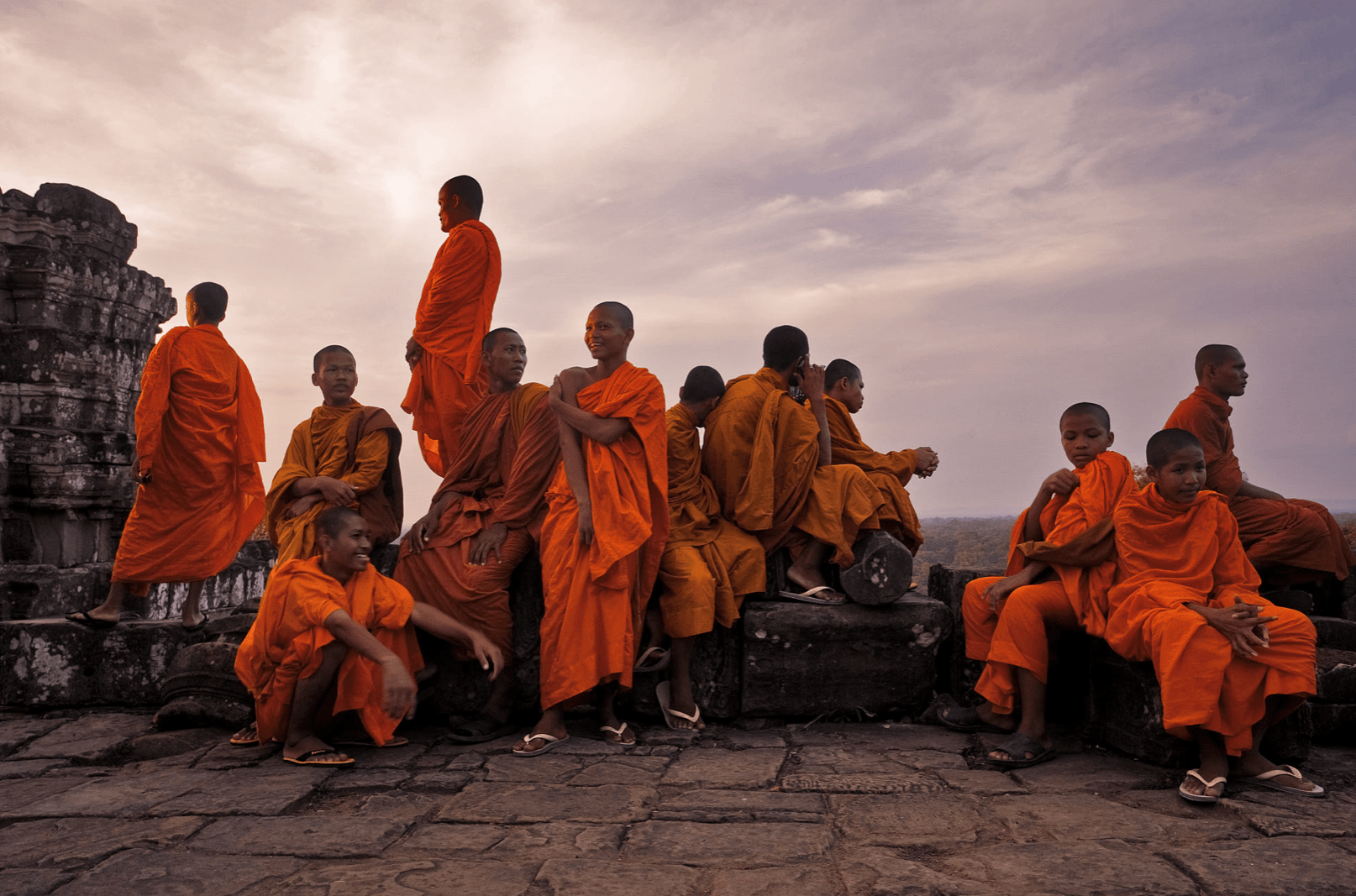 Referring to best time to visit Cambodia is often face you with two seasons – 'dry' and 'rainy or green season, Cambodia offers different experiences throughout the year. November to February brings cooler temperatures with little rain. From May to early October, it generally rains for a short time in the early morning and late afternoon, temple moats are full, the scenery is lush and green, and there are fewer visitors. January, February, March and April is considered as a dry month with a little rain to travel to Cambodia with temperatures ranging from 22 to 28C, making January the best time of the year to plan a visit to explore country's vivid temples in Angkor Wat and or plan a relaxing holiday at one of the southern beaches. In addition, March and April are the peak time for traveling to Cambodia. May, June and July are the rainy seasons in Cambodia with long sunny days and temperature from 30 to 33C, rains fall during the early morning and or late evening. Tourist sites are not as crowded as in peak seasons and you should be fine traveling during the rainy season
Furthermore, the best time to visit Angkor Wat as the main attraction of your Cambodia vacation and the country's best iconic landmark and a must-see for tourists. No matter where you travel in Cambodia, Angkor Wat is something you have to visit. Located within 240 kilometers from Phnom Penh and close to Siem Reap and within 20 kilometers away from great Tonle Sap lake. The best time to travel to Angkor Wat coincides with the best time to travel to Cambodia. From November to February, the best weather conditions are protagonists, and it is the ideal time to visit the complex. The sun is shining and the temperatures is appropriate, but the low humidity compensates for these temperatures, which reach 30 degrees or even more. Although this is the ideal time to visit Angkor Wat, you should know that it is also the high season in Cambodia, which means that everything will be full of tourists.
As a recommendation, I will tell you that summer is the best time to travel to Angkor Wat. Due to the abundant rains, the vegetation is abundant and the artificial lakes are full of water. In the winter months this is not the case as it rains much less. If you travel to Cambodia outside the months between April and October, you will find fewer tourists in the temple complex and you will enjoy more peace and quiet during your visit.
2- Where to go in Cambodia
If you want to get the most out of Southeast Asia, travel to Cambodia as a destination with variety of places to visit. You will not be disappointed. It may not have the same party fame as its Thai neighbor or the historical notoriety of neighboring Vietnam. But don't let that hold you behind to explore this incredible country. Cambodia is full of ancient temples and beautiful landscapes. And it is also very cheap to travel, lodge, and eat, here are 7 best destinations to travel in Cambodia.
With its frenetic markets and wide boulevards, Cambodia 's historic capital is a vibrant and charming city. A full day tour takes you to the magnificent Royal Palace , with its adjacent Silver Pagoda on the banks of the Tonle Sap and Mekong Rivers , then on to the National Museum . This splendid building houses an extensive collection of Khmer treasures, providing a good preface to your exploration of Angkor . In the afternoon we suggest you visit the Tuol Sleng museum of genocide and the infamous Killing Fields. This will give you an accurate insight into the atrocities that took place under the Khmer Rouge and Pol Pot. It is, however, a very harrowing experience and we recognise that this is not for everyone. The city's diverse markets are great to explore. The surrounding countryside shelters several pre-Angkorian temples.
Read more about Cambodia Capital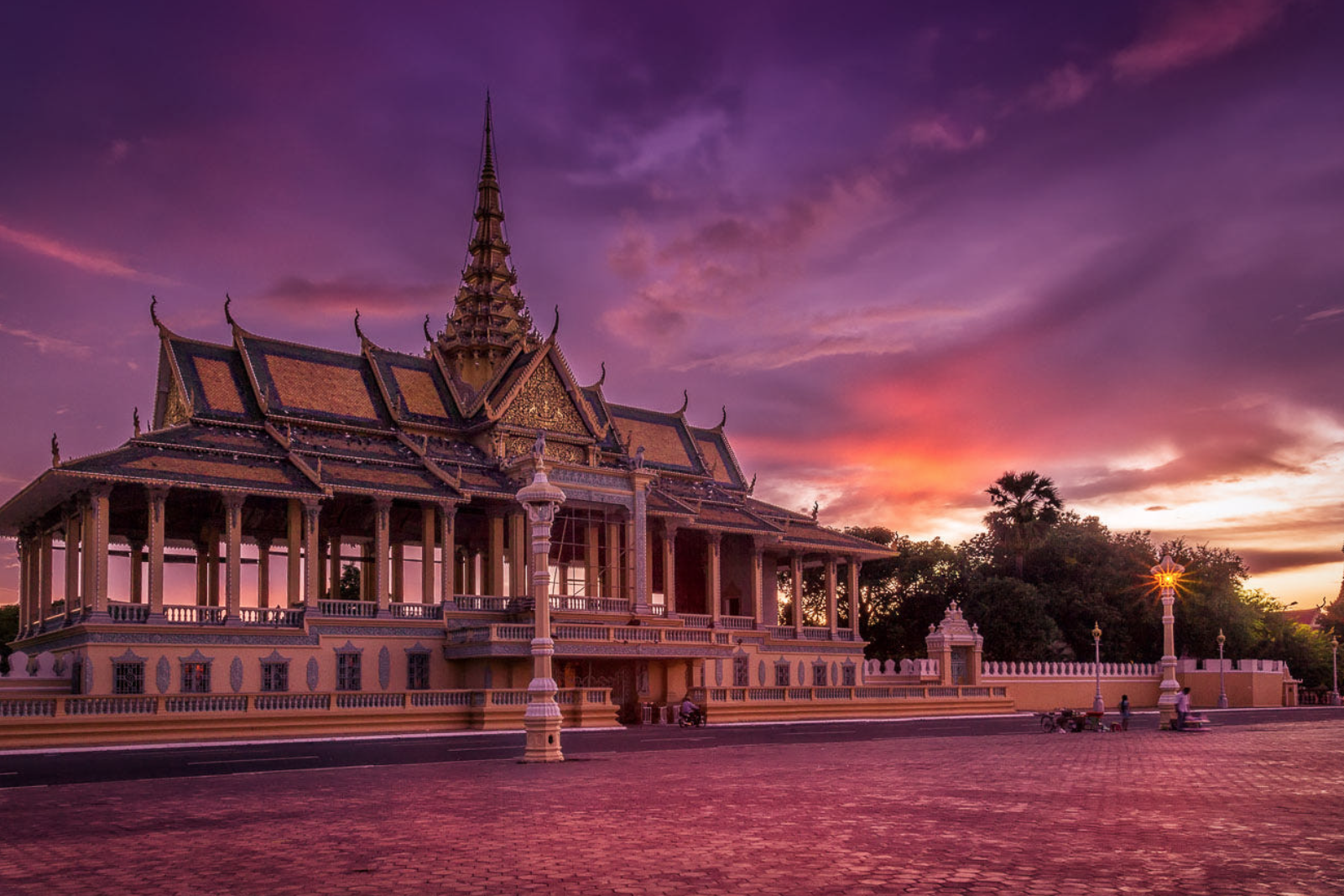 2. Angkor Archaeological Park
Travellers from far and wide congregate in this small corner of northwest Cambodia to marvel at the truly staggering sight of these temples, scattered around a huge area of forest, that together comprise one of the world's greatest man-made wonders. Though often used to refer to the entire complex, Angkor Wat is just the most famous temple, but to see even this you should allow several hours and will probably want to return. Built between 1113 and 1150 A.D., this is the world's largest religious monument with countless towers, cloisters, courtyards and carvings. As the most famous it attracts the most visitors, and its main avenue can become crowded with photographers at sunset.
However, in the immediate area there are more than 50 other temples to explore.  The 'Grand Circuit' comprises the walled city of Angkor Thom , its centrepiece Bayon temple decorated with over 200 carved faces with enigmatic smiles, Preah Khan once a Buddhist university, and finally Ta Phrom, engulfed in jungle much as Henry Mouhot would have originally found it when he rediscovered the deserted temples in the 1860s. Beyond the Grand Circuit are many other temples, often more overgrown and almost deserted, sharing 360 square kilometres with a dense forest of tall, majestic trees. Our favourites include the Rolous Group, a collection of early Khmer temples built in the 9th century, Banteay Srei, a charming early Hindu temple and the recently opened Beng Melea. Less visited, these provide the seclusion to take in the splendour and vastness of this lost empire's achievement.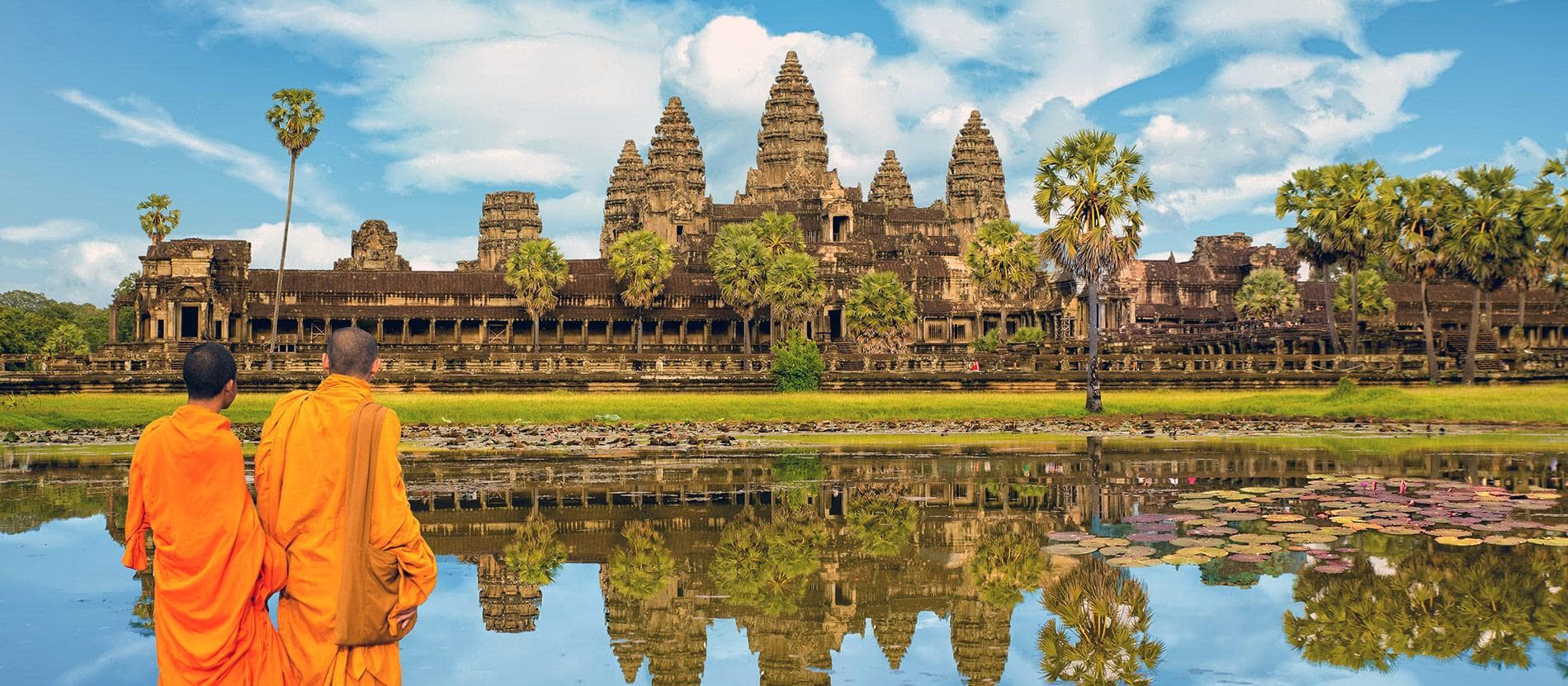 Once a small market town but currently is undergoing one of the fastest periods of growth in Southeast Asia full of luxury hotels . This is the gateway to Angkor and home to all the hotels, including its most famous, the Grand Hotel d'Angkor. It has a surprisingly sophisticated selection of good restaurants and bars, but you do not have to look far to find a more authentic Cambodia , with the local market an interesting place to spend some time. A great excursion is onto nearby Tonle Sap Lake , a vast body of water that, when the Mekong floods, is Southeast Asia 's largest freshwater lake. A boat trip on the lake reveals rural Cambodian life as it coexists with the seasonal floods, with floating and stilted villages where life proceeds by boat.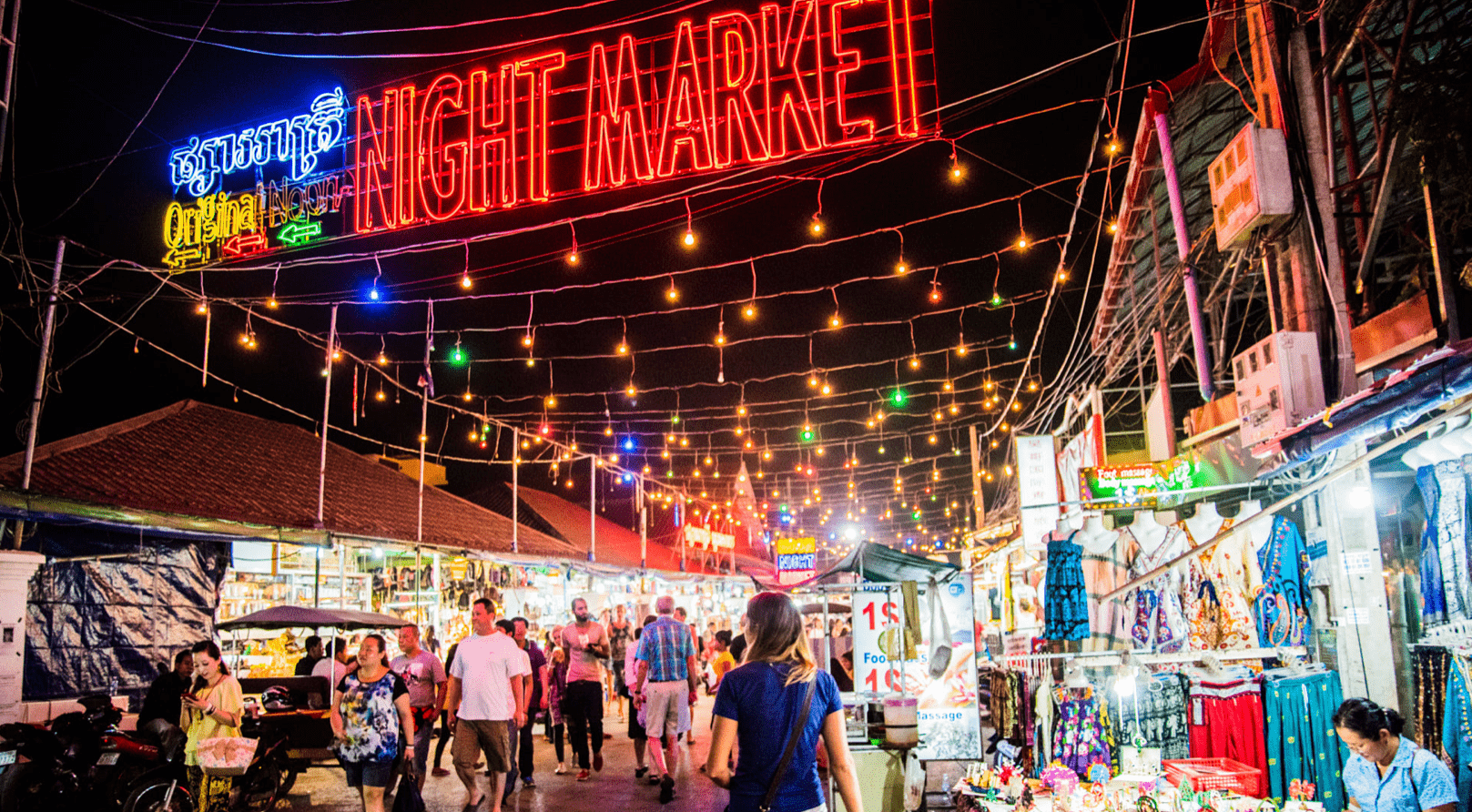 Against a scene of densely forested mountain ranges, clear waters wash over the exquisite white sand beaches of Sihanoukville. Set on the southern coast, and looking out across the Gulf of Thailand , this is a true panacea for the weary traveller. The local infrastructure is gradually changing, with accommodation and facilities beginning to improve. The resort is easily reached from Phnom Penh and we recommend a few days to relax and unwind on these peaceful, remote beaches. En route you could also visit the atmospheric French hill station at Bokor. Left to crumble away at 1040 metres, its abandoned hotel and grand casino echo with the ghosts of its former glory, as the tropical forests reclaim their lush green peaks.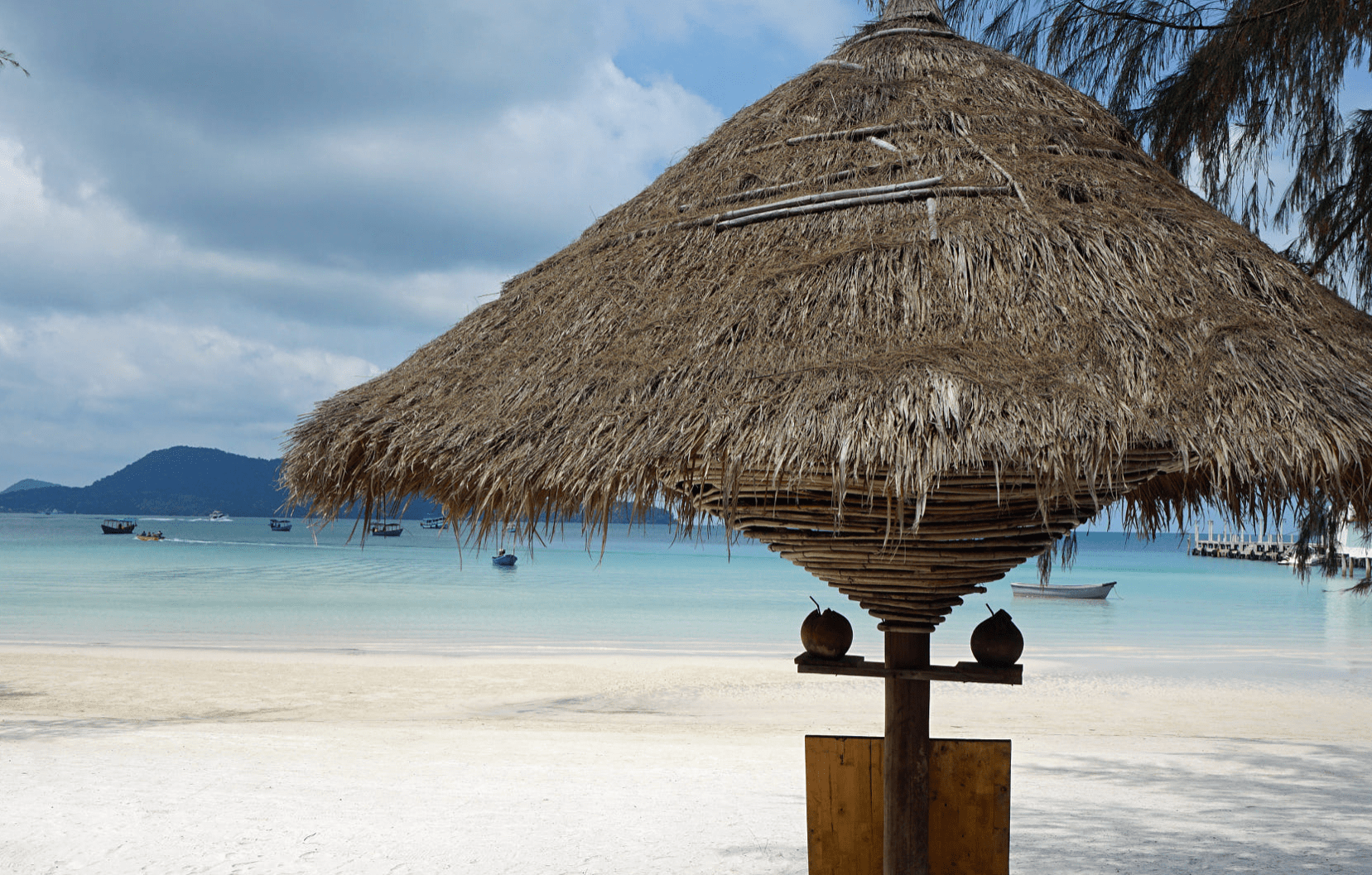 Northeastern Cambodia has only recently opened up to visitors with the introduction of an airstrip for flights from Phnom Penh . The area feels tangibly remote as you drive on red-dirt roads through wild scrub, rubber, cashew and pepper plantations, and verdant forest. Waterfalls are numerous and the stunning crater lake of Boeng Yeak Loam, said to be the home of mystical water spirits, is surely one of the most scenically beautiful places in the whole country. Using the regional capital, Banlung, as a base Ð and in conjunction with community-based tourist projects – it is possible to visit many different ethnic minorities in the region. Traditional cemeteries, complete with carved effigies, offer an insight into unique burial practices and the stilted male and female huts found in Kreung villages give you a glimpse of the fascinating courting practices of the tribe. Further south, Kratie (pronounced ÒKra-cheh') is a characterful and pretty town that buzzes with life and is one of few places in Southeast Asia where you are likely to encounter the rare Irrawaddy dolphins, often seen clearly from the shore.
To the north and east of Siem Reap lie the remote temples of Preah Vihear and Koh Ker, rarely visited by westerners and accessed only by long bumpy roads through the wildest reaches of Cambodia . With no accommodation available, the best way to see these spectacular temples is to camp at their feet in one of our safari tents. You will be able to experience the temples alone at sunrise and sunset whilst your crew prepares tasty local meals over the camp fire. A wonderful and unique experience where your knowledgeable guide can reveal the temples' secrets to you in isolation.
Koh Rong is the new paradise desert island. Only accessible with a small local ferry, there are not many tourists who venture to make the trip from Sihanoukville to this beautiful place. With 23 pristine beaches to choose from, you will be tempted to laze in the sun and let the days go by. For the more adventurous, there are also plenty of options for hiking, diving, and snorkeling. Here you will find cheap cocktails, delicious food and the best sunset over the sea.
3- Currency: Money & traveling costs in Cambodia
The currency of Cambodia is Riel and the Newest update for exchange rate is: 1 USD = 4000 Riel. There are credit-card-compatible ATMs (Visa and MasterCard only) in most major cities including Phnom Penh, Siem Reap, Sihanoukville, Battambang and Kompong Cham. There are also ATMs at the Cham Yeam and Poipet borders if arriving from Thailand. Machines dispense US dollars. Large withdrawals of up to US$2000 are possible, providing your account can handle it. Stay alert when using them late at night. ANZ Royal Bank has the most extensive network, including ATMs at petrol stations and popular hotels, restaurants and shops, closely followed by Canadia Bank. Acleda Bank has the widest network of branches in the country, including all provincial capitals, and many have ATMs. However, these are not yet compatible with international credit cards, although rumours are that they will be upgraded soon.
The US dollar remains king in Cambodia. Armed with enough cash, you won't need to visit a bank at all because it is possible to change small amounts of dollars for riel at hotels, restaurants and markets. Hardened travellers argue that your trip ends up being slightly more expensive if you rely on US dollars rather than riel, but in reality there's very little in it. However, it never hurts to support the local currency against the greenback. It is always handy to have about US$10 worth of riel kicking around, as it is good for motos, remorque-motos and markets. Pay for something cheap in US dollars and the change comes in riel. In remote areas of the north and northeast, locals only deal in riel or small dollar denominations.The only other currency that can be useful is Thai baht, mainly in the west of the country. Prices in towns such as Krong Koh Kong, Poipet and Sisophon are often quoted in baht, and even in Battambang it is as common as the dollar.There are no banks at any of the land border crossings into Cambodia, meaning credit cards and travellers cheques are effectively useless on arrival, although there will likely be ATMs in Poipet in the near future. In the interests of making life as simple as possible, organise a supply of US dollars before arriving in Cambodia. Cash in other major currencies can be changed at banks or markets in Phnom Penh or Siem Reap. However, most banks tend to offer a miserable rate for any nondollar transaction so it can be better to use moneychangers, which are found in and around every major market.Western Union and MoneyGram are both represented in Cambodia for fast, if more expensive, money transfers. Western Union is represented by SBC and Acleda Bank, and MoneyGram is represented by Canadia Bank.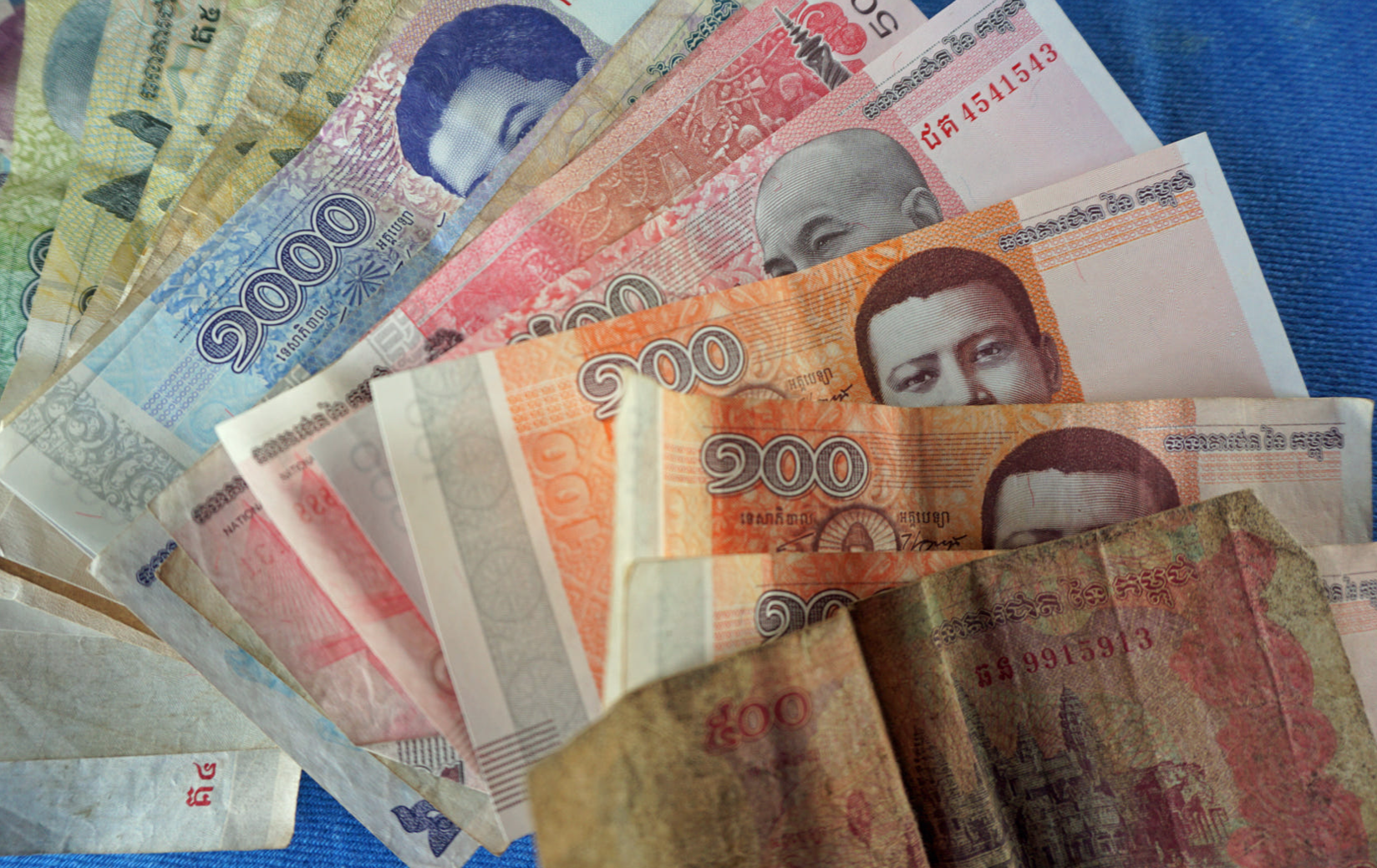 1. Cost of traveling in Cambodia
The cost of travelling in Cambodia covers the whole spectrum, from almost free to outrageously expensive, depending on taste and comfort. Penny- pinchers can survive on as little as US$40 per day, while budget travellers with an eye on enjoyment can live it up on US$70 a day. Midrange travellers can turn on the style with US$100 to US$150 a day, staying in smart places, dining well and travelling in comfort. At the top end, flash US$200 a day or more to live a life of luxury.
Accommodation starts from as little as US$5 to US$15 in popular destinations. Spending US$20 to US$30 will add to the amenities, such as air conditioning, satellite TV, fridge and hot water. Stepping up to US$50, you enter the world of three-star standards and charming boutique resorts. Forking out US$100 or more brings a five-star fling. Don't be afraid to negotiate for a discount if it is low season or traffic is down.
2. Costs of food in Cambodia
While Cambodian cuisine may not be as well known as that of its neighbors Thailand and Vietnam, it can certainly compete with the best of them. Snack on the street or chow down in the market, with meals starting at just 1000r or so, or indulge in a banquet for a couple of bucks. Khmer restaurants are a step up in comfort, and a local meal will cost US$2 to US$5. Next are the sophisticated Khmer, Asian and international restaurants. Meals start from about US$5-6 at the cheaper places, rising to more like US$20 at the smarter ones, and US$50 or more is possible if you go wild with the wine list.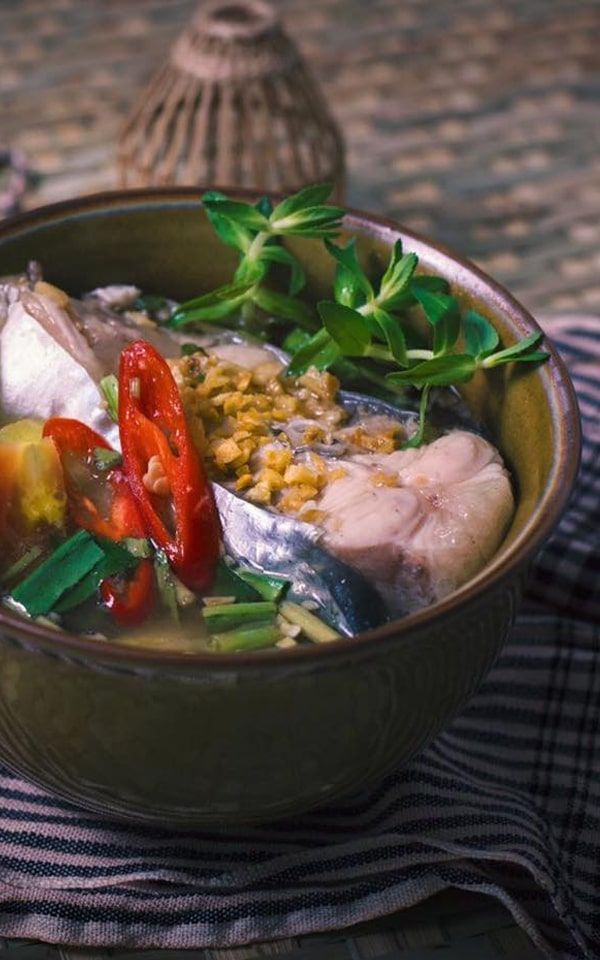 Tipping is not traditionally expected here, but in a country like Cambodia, tips can go a long way. Salaries remain extremely low and service is often superb thanks to a Khmer commitment to hospitality. Hence a tip of just US$1 might be half a day's wages for some. Many of the upmarket hotels levy a 10% service charge, but this doesn't always make it to the staff. If you stay a couple of nights in the same hotel, try to remember to tip the staff that clean your room. Consider tipping drivers and guides, as the time they spend on the road means time away from home and family. It is considered proper to make a small monetary donation at the end of a visit to a wat, especially if a monk has shown you around; most wats have contribution boxes for this purpose.
4- Passport & Visa requirements for traveling to Cambodia
Most visitors to Cambodia require a one-month tourist visa (US$30 or tourist visas and US$ 35 for business visas). Most nationalities receive a one-month visa on arrival at Phnom Penh Sihanoukville and Siem Reap international airports, and at land borders with Vietnam, Laos and Thailand. One passport-sized photo is required and you'll be 'fined' US$1 if you don't have one. It is also possible to arrange a visa through Cambodian embassies overseas or an online e-visa (US$36) through the Ministry of Foreign Affairs.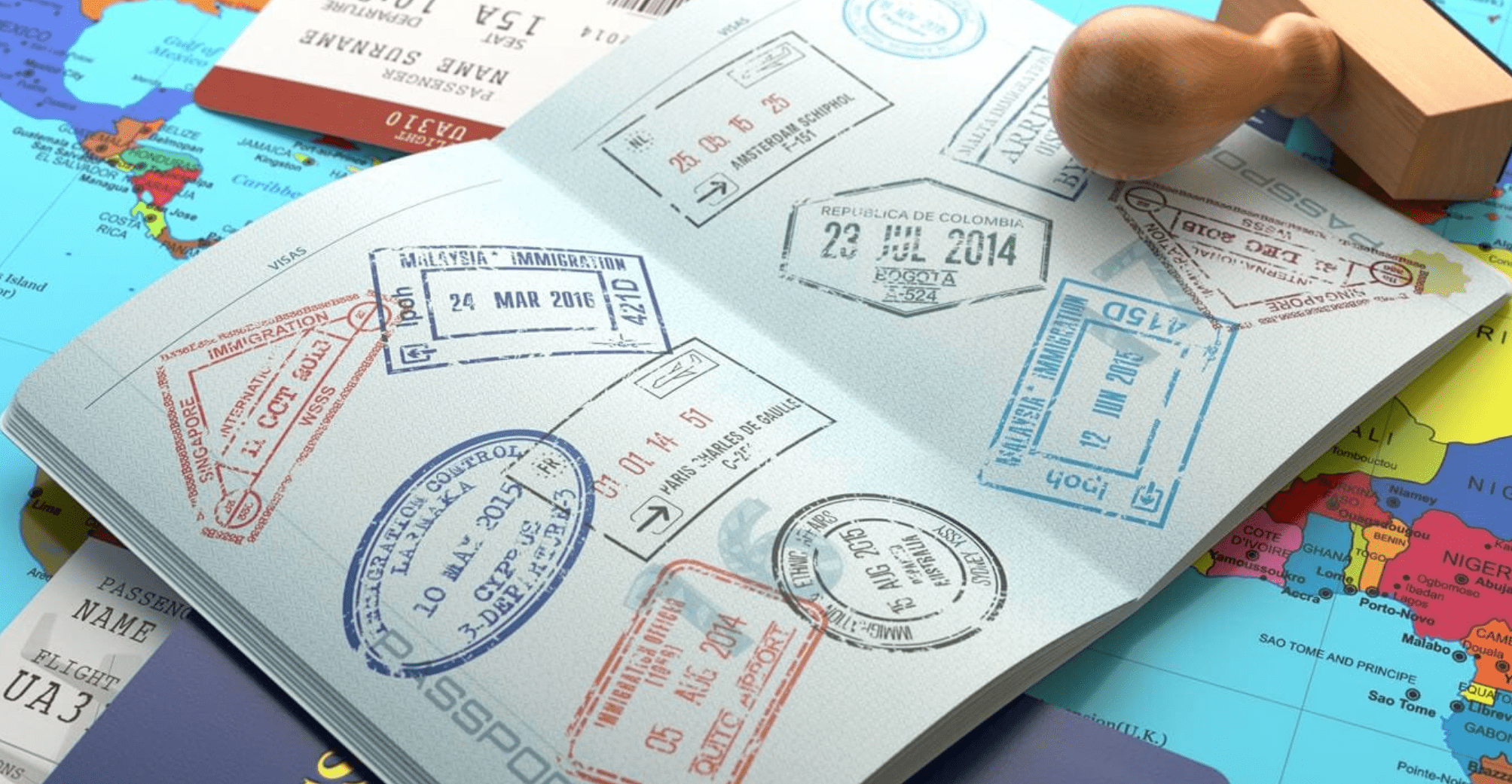 Arranging a visa ahead of time can help prevent potential overcharging at some land crossings.Those seeking work in Cambodia should opt for the business visa as, officially, it is easily extended for long periods and, unofficially, can be extended indefinitely, including multiple entries and exits. A tourist visa can be extended only once and only for one month, and does not allow for re-entry.Travellers are sometimes overcharged when crossing at land borders with Thailand, as immigration officials demand payment in baht and round up the figure considerably. Arranging a visa in advance avoids this potential problem. Travellers planning a day trip to Prasat Preah Vihear from Thailand do not require visas, but may be asked to leave their passport on the Thai side of the border to ­ensure they don't continue on into Cambodia.Overstaying your visa currently costs a hefty US$5 a day.
5- What to take: packing list Cambodia travel guide
Driving license and international driving permit (IDP)
Khmer phrasebook to help you communicate specially if you travel to remote areas in Cambodia
Hat and strong sunglasses
Sandals and comfortable walking shoes
Earplugs and universal traveling adapter
Rain-gear and dry bag if travelling in the rainy season
In general, light, loose-fitting clothes will prove the most comfortable in the tropical heat and humidity of Cambodia. It's worth bringing one jacket that can double as a raincoat and keep you warm in higher elevations and on air-conditioned buses. When you visit temples, wear clothes that cover to your elbows and knees. Bring a smart outfit if you plan on fine-dining or clubbing.
Electrical equipment: Smart-phone or iPad is must-have to take with you and since internet connection and Wi-Fi is available almost everywhere including in hotels, restaurants, coffee shop, shopping malls and pretty much everywhere. Besides, in Cambodia, the voltage is 220V so you have to bring universal adapter if your equipment uses the different voltage. Chargers and pre-charged battery is very necessary when you have a long trip.
Travel advice and advisories for Cambodia
Colossal stone faces stare impassively across stone-built temples, huge structures devoted to long-forgotten empires, now trailed by jungle creepers and pierced by the strangling roots of vast forest trees. This is the complex of Angkor, the famous 'lost city' of the Khmers, the most astounding archaeological site in Asia , and undoubtedly one of the world's great travel highlights. However, there is plenty more to see in this fascinating country, sheltered from the West by nearly three decades of war and isolation. The ancient relics of the Khmer culture and the mellow town centres bequeathed by the French colonists co-exist with haunting memories of a generation lost to Pol Pot.
The capital, Phnom Penh , is springing back to life as an economic powerhouse but still retains a small-town atmosphere, with bustling local markets, streets teeming with bikes and scooters and a quieter world along its riverfront, lined with the stilted villages of rural migrants. Beyond the capital and Angkor Wat's nearest town, Siem Reap, tourism is virtually unknown and western visitors are a complete novelty, invariably greeted with an unbelievable warmth and generosity. After the trauma of the recent past the Cambodian people are only now daring to look ahead, and in the remote villages of the north and on the palm-fringed beaches of Cambodia's southern coast you're likely to have local children pressing small flowers in your hand and everywhere smiling, friendly faces making you feel instantly at home.