Halong Bay, is the most magical place that one would expect to when traveling to Vietnam, the scenic Bay is represent all the charm and beauty of Vietnam and located within north of the country and for an about 4 hours driving from Hanoi, the capital city of Vietnam. Halong Bay is known as the descendants of the Dragon (Vinh Ha Long).
Where is Halong Bay?
Halong Bay is a place of over 2,000 karst rock islets scattered along 120 kilometers of coastline, involving more than 15,000 m2 of extension, creating an atmosphere and a place of unparalleled beauty. Obviously, the best and most chosen way to explore and experience such a magical place would be on board a Halong Bay Cruise in such there will be a variety of cruises to choose from, whether superior class boat or a luxury high end cruise with all the facilities one could expect on a cruise vacation. The best and most taken tours are 3 day and 2 night as well as 2 day and 1 night to which all cruises has their own itinerary to follow.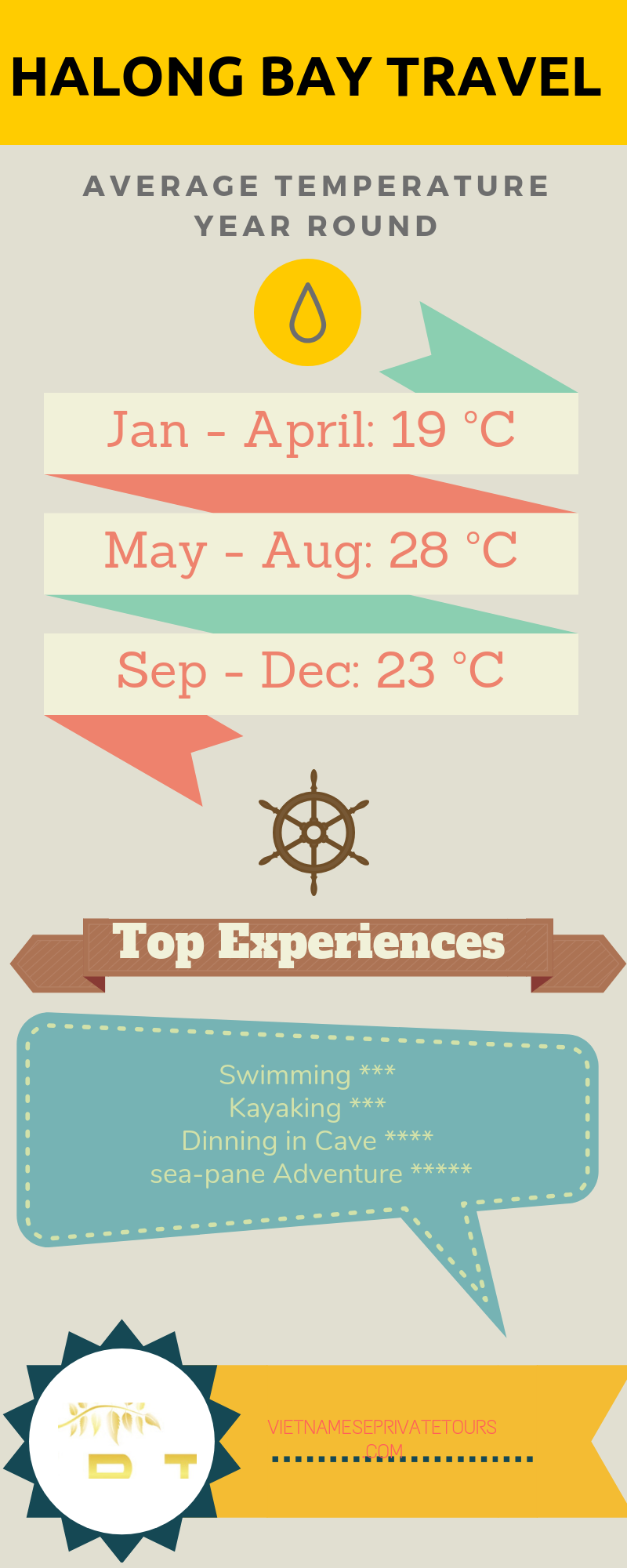 Explore Caves in Halong Bay
When you're sailing through Halong Bay, tourist cruise will stop to visit some famous caves that have formed in the vast islands of Halong. The most famous caves are Hang Sung Sot Cave (Stun), Hang Dau Go (Cave Escondido Wood), Hang Thieng Cung Grotto (Heavenly Palace), Hang Bo Nau Cave (Pelican), Dong Tam Cung (cave three palaces) and Hang Trong (Drum cave). Some luxury cruises are offering dinner in cave along with the special activities based on your program.
How much is a trip to Halong Bay?
]This is pretty much depend on what cruises you choose to go with, generally a 3 star cruise would cost as low as $120 or above which is included shuttle bus transfer from / to Hanoi, overnight stay in a cabin along with the full board meal but not drink.
With more value on other luxury or high-end deals on Halong Bay you will get tour with more flexibility along with the better program to explore the Bay along with more activities while sailing through the less visited areas such as in Bai Tu Long Bay. This higher end options usually cost more than $250 to up to $450 per person for a 3 day and 2 night cruising. For more information, visit Halong Bay Vietnam and learn more about activities before booking your trip.