2-week Laos luxury travel itinerary ticks off all of the top sights, Luang Prabang, the Plain of Jars and Si Phan Don, as well as visiting little-explored villages to meet the friendly, local communities.
Personalised journeys from start to finish
Save an acre of rainforest each time you travel
Every detail taken care of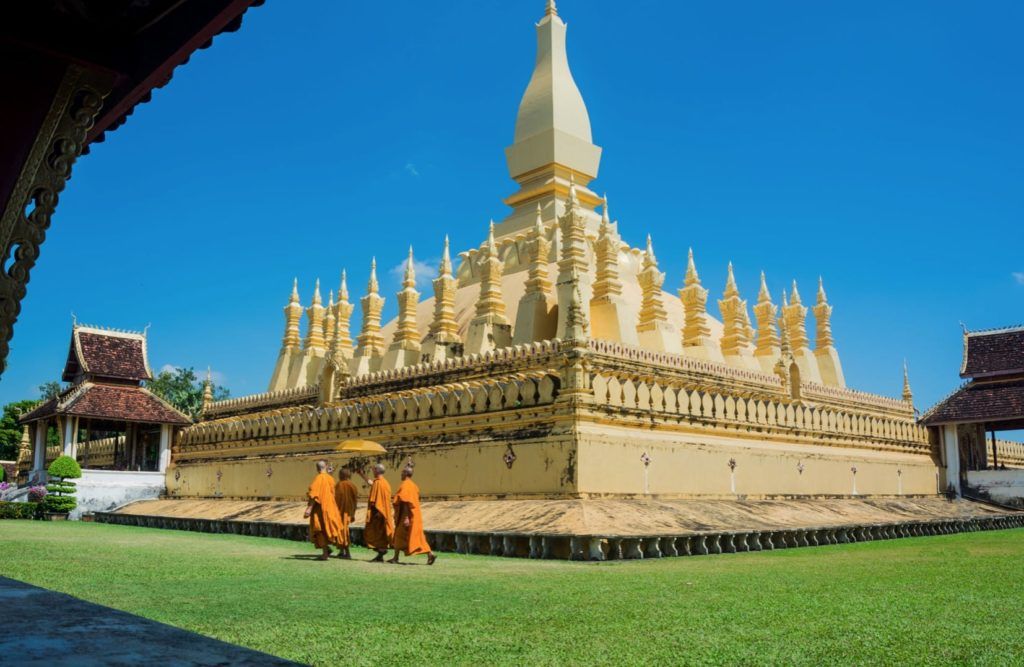 Witness the dawn ceremony of Takbat, a daily ritual which sees the saffron-robed monks of Luang Prabang's monasteries collect alms, in the form of food, from the local people who line the streets.
Pay a visit to Mines Advisory Group (MAG) in Phonsavan and chat to its head about the work they do clearing unexploded ordnance dropped on Laos during the Vietnam War and its local education programme.
Visit Si Phan Don, the '4,000 Islands' set in the rushing waters of the Mekong, where you can slow down the pace, immerse yourself in its scenic beauty and enjoy this peaceful, relaxing spot.
REQUEST A QUOTE
Day 1 - 3: Luang Prabang
Welcome to Luang Prabang. An enchanting city, Luang Prabang is the quintessential image of Laos. At its core, lush greenery, golden temples and vivid-robed monks come together to create a colourful, rich heritage and an enduring French-colonial legacy. Take a walking tour around the vibrant night market, keeping an eye out for craft souvenirs from Laos' hill tribes as you go.
KUANG SI WATERFALLS
Rise early this morning to witness the Buddhist ceremony of Takbat, when the monks of Luang Prabang's monastic communities collect alms from locals. See Wat Sene and the National Museum. Visit the traditional H'mong village of Ban Na Ounae, before walking to the cascading turquoise waters of Kuang Si Waterfalls for a picnic lunch and a swim. Stop at Ock Pop Tok Weaving Centre on the return to Luang Prabang.
PAK OU CAVES
Explore Wat Xieng Thong, considered Luang Prabang's most beautiful temple. Board a boat to cruise the mighty Mekong up to the sacred caves of Pak Ou, known for the hundreds of Buddha sculptures that reside within. Visit the local villages of Thin Hong and Ban Xang Khong to witness the daily life of the local people and their cottage industries.
Day 4 -5: Phonsavan & Plain of Jars
Drive to Phonsavan via Phoukhoun, stopping at Tham Phra Cave and Nong Tang Lake on the way.
PLAIN OF JARS
One of the most important ancient sites in Southeast Asia, these mysterious clusters of giant jars are thought to be about 2,000 years old. We will visit Site 1 where there are over 200 jars, Site 2 which also allows you to admire the beautiful scenery of the region and Site 3, situated in picturesque woodland. There will also be a visit to the office of the Mines Advisory Group (MAG), an organisation that helps clear unexploded ordnance that are a remnant of American raids during the Vietnam War. Take the opportunity to speak with the organisation's head.
Day 6: Vang Vieng
Depart Phonsavan for Vang Vieng. Stop en route at Pathang village, where you can enjoy dramatic views over the karst landscapes
for which Vang Vieng is famous. On arrival, head into Tham Chang Cave to explore. The cave was used as a hideout for locals when marauding Yunnanese came to town in the early 19th century.
Day 7 -8: Discover Vientiane
Drive to Vientiane, Laos' capital. Nestled in a languid bend in the Mekong, Vientiane is a delightfully quaint city, more friendly backwater than chaotic capital. Spend the rest of the day exploring with visits to Wat Si Saket, Wat Phra Keo, That Luang Stupa, and the Patuxai Victory Monument, that resembles Paris' Arc de Triomphe.
Spend a free day exploring Laos's capital on your own
Day 9 - 10: Si Phan Don & 4000 Islands
Rise early for a morning flight to Pakse. On arrival, explore the UNESCO World Heritage- listed Wat Phou, a ruined Khmer temple complex set in the beautiful landscapes of Mount Phu Kao. Drive on to Khong Island, the largest island of the laidback Si Phan Don archipelago in the Mekong River. The rest of the day is free.
4,000 ISLANDS
Around Si Phan Don, meaning '4,000 islands', the pace of life is slow and easy and the river views are gorgeous. See the magnificent Khone Phapheng Waterfall, Southeast Asia's largest, and pop over to Khone Island by speedboat to discover its charming colonial buildings and see Liphi Waterfall, nicknamed the Devil's Corridor. Depending on the season, you may see traditional fishing techniques in action. Spend the rest of your day at leisure.
Day 11: Bolaven Plateu
Depart Khong Island for Pakse, stopping en route to admire Tad Yuang and Tad Fane waterfalls. Continue up onto the Bolaven Plateau to pay a visit to a coffee plantation and learn about the process of planting, harvesting and roasting the beans. This evening enjoy a farewell dinner back in Pakse.
Day 12: Departure
End of the 12 days Laos itinerary exploring country's upside down, transfer to airport, departure.
Other trips you may be interested in