Named after Bangkok's famous red light district, Soi Cowboy, with all of it's neon lights and scantily clad girls, is many things to many people. Everyone is very friendly whether you just want to sit outside and have a drink and watch the goings on, or go inside the clubs and be a part of the shows. Soi Cowboy is located in Sukhumvit Road between Asoke Road (Soi 21) and Sukhumvit Soi 23.
What is Soi Cowboy all about?
Las Vegas of Thailand, Soy Cowboy is an adult entertainment area located in downtown Bangkok. Unlike the rather Patpong, Soi Cowboy is OK to hang around in and to simply watch the parade go by. Yes, there are numerous Go Go bars that cater for all manner of desires, but there are also many good restaurants to be enjoyed. If you are a single male, you will find it very easy to enjoy the company a female companion. Common sense is required when you wonder up and down the Soi, but to be honest I found this to be a pretty safe area to while away a few hours.
Soi Cowboy is one of the three red-light districts of Bangkok (Soi Cowboy, Nana Plaza, and Patpong), attracting anyone including crowds of tourists. It is a street of about 400 meters length full of bars and Go-Go dancers. Soi Cowboy is one of the most visited streets in Bangkok, not surprisingly it has become one of the main tourist attractions of Bangkok specially during the nights.
This is a great night in Bangkok, No scams or overpriced drinks if you just walk around first to find an appropriate bar to game in. Good drinks, beautiful eye candy everywhere and you often hear "Welcome Kaa"but most importantly, everyone having fun! Like other red-light districts of Bangkok such as Nana Plaza or the Patpong, this street is full of bars where girls dance in a bikini or chopped ball on a stage while people have drinks around it. In addition to Go-go bars, in Soi Cowboy there are several places to eat good Thai and western foods and there are also a number of bars where you can play pool, listen to a band on a live music, or just have a beer on the terrace.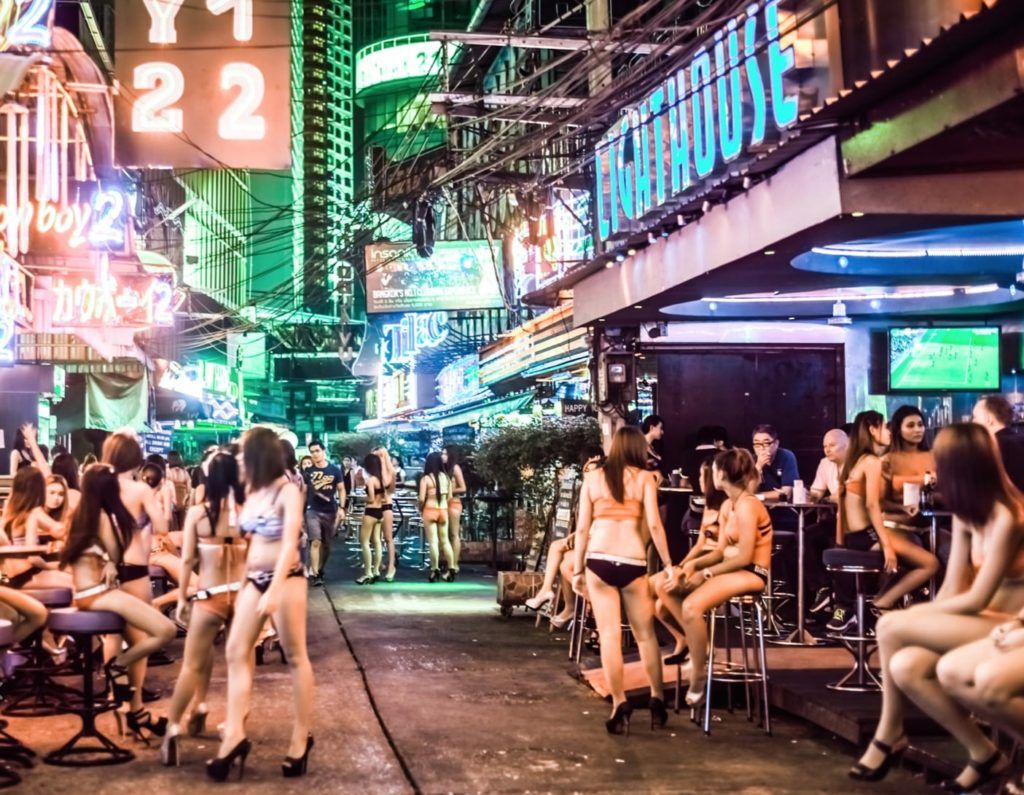 Prices in Soi Cowboy (Thailand red light district)
Keep in mind that Soi Cowboy is an entertainment place where both tourist and locals of any gender and taste get there to have "Fun". The prices of the drink are totally reasonable (eg beer goes from 80 baht to 150 baht depending on whether it is a normal bar or a Go-Go bar with girls of more level). It is normal for you to be approached by some girls / women who work at the store asking you to invite them to a drink. If you don't want their company, just say "no thanks".
Soi Cowboy is a totally safe street, without scams, and with a much cleaner and classier environment compared to Nana Plaza, or the clubs of Patpong street, where tourists are often scammed. Soi Cowboy is a parallel street to Sukhumvit Road located between Sukhumvit Soi 21 and Soi 23. It is a two-minute walk from Asok Skytrain station and Sukhumvit subway station. There are numerous bars and night clubs in Soi Cowboy that are highly rated and attracted by people with more taste than the usual bars around this red-light district of Bangkok.
A go go bar named "Kiss A Go Go" is one of the top rated among the many other bars to which attracts pretty much of those fun seekers who are looking for a more classy neon light bar. Usually the happy hour time start from 6.30 pm to 8:00 pm from where you can expect the drinks with buy one get one free. The beer prices are start from 180 baht for a bottle and around 120 baht for a draft beer. There is always nice music with neon lights, comfortable sofas and great performance of the bar girls dancing their pro dancer way on the multi-level dance stage.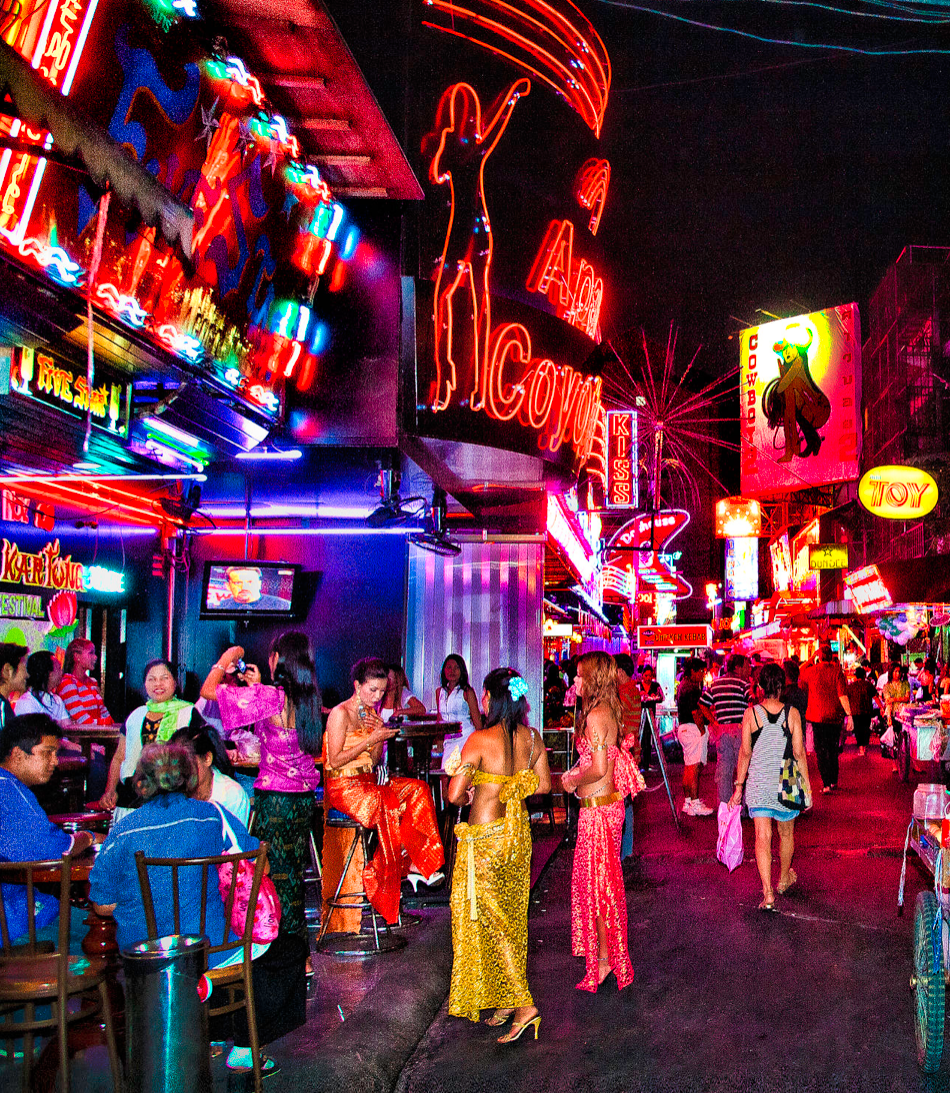 Soi Cowboy's best Go-Go Bars
Soi Cowboy's red-light district has a lot of Go-go bars where you can have a drink and enjoy the nightlife and some casual fun, here is a list with some of the most interesting and popular bars in the street.
Baccara
Baccara is one of the last go-go bar on Soi Cowboy street but one of the most famous, this bar is always up to the top of people, it is even difficult to find a seat if you do not arrive soon, it is usually visited by Japanese people, which always makes this place a place with higher price among the others..
Deja vu
Deja Vu A Go-Go is one of the funniest places in the soi cowboy, strip dancer shows usually take place at the end of the week, the staff of this bar are usually more polite and friendly people than the average workers in this area, the conversation here goes a step further than the typical "What's your name" or "Are you inviting me for a drink?".
Tilac Bar
One of the brightest and largest bars in the soi cowboy area, they undoubtedly made a high investment in their design and it is one of the most striking bars on the street, you will find a bar that surrounds the main stage and six smaller areas where you see dancing, this place is usually full by late night.
Shark
The Shark go-go bar has two floors, the first floor has a classic design, it has Happy Hour from 16:30 to 20:00 for the drink, if at the bottom you do not find a very lively atmosphere it is better to climb to the upper part where the nightlife of this street takes on its true meaning.
Originate of the Soi Cowboy Bangkok
The first bar in this area was opened in 1970 by African-American cowboys who appeared with their local cowboy hats. The name of the alley is therefore followed by Cowboy. And since then, it's a place of entertainment, light, sound and fun. If you compare Soi Cowboy with Pattaya walking street it might give you the same kind of vibe but soi cowboy is a place full in surprises and bring many interesting entertainments to enrich your Thailand travel experience.
Walking through Soi Cowboy
In any of the go-go bars where you enter you will find girls in bikini dancing or talking with customers, the most normal thing is that they come to talk to you to ask and invite you to buy a "lady drink". The bars are normally open until 02:30 or 03:00 in midnight, some of the most famous bars are Baccara or Tilac, and during the weekends this street is usually quite crowded.
It is quite likely that while you drink several girls approach you to know if you want to invite them for a drink, if so they will stay talking to you time to see if you are looking for something more than drinking or not, if that is not your intention and you only want to know this red light district of Bangkok you can tell them that you are not interested, they will soon will leave, if you go alone and simply want to chat for a while and have fun you can invite them to a drink and have a good conversation.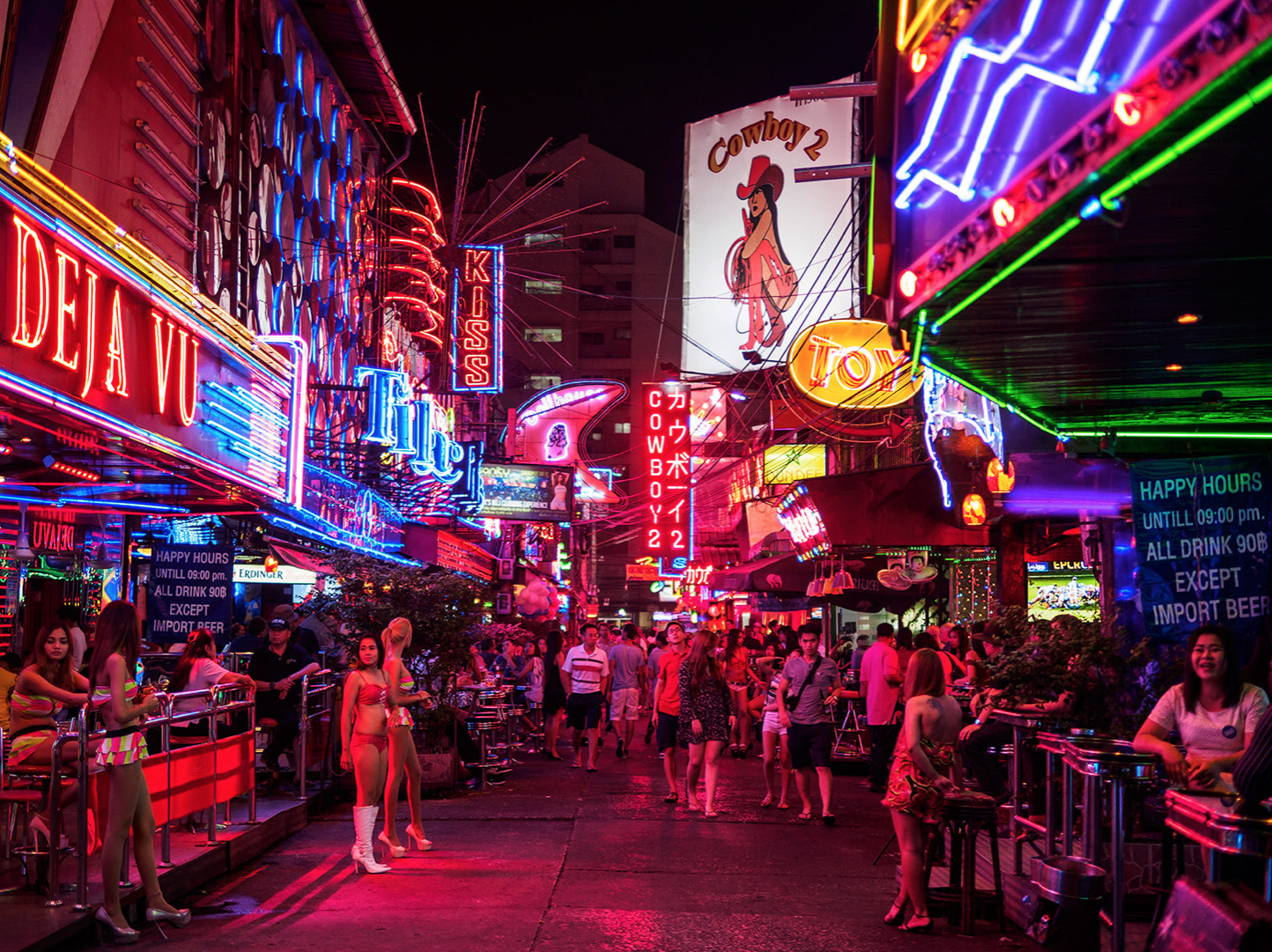 Tips for visiting Soi Cowboy Red Light District
If your intention is to find a place to watch a famous ping-pong show in Sri Cowboy, the street is one of the places where you can witness this show, fun for some and not so much for others. The entrance to Ping-Pong show is often included a drink and it is better to make sure to ask the total price before deciding to join.
Accommodation around Soi Cowboy
Around the famous red-light district of Bangkok, thr Soi Cowboy, you can find up to 165 hotels, some very good in terms of rating while others are just a place to sleep. Hotels near Soi Cowboy, Bangkok on Tripadvisor: Find 29257 traveler reviews, 50053 candid photos, and prices for 30 hotels near Soi Cowboy in Bangkok. For more information, check out our Thailand Luxury Travel and sign up for the best deal offer with up to 40% off.
How to get to Soi Cowboy in Bangkok Thailand
It is located near Sukhumvit between Asoke Street and Sukhumvit Soi 23. All taxis and tuk-tuks know this area. You can also arrive by BTS through the Asoke station or by MRT if you get off at Sukhumvit station..